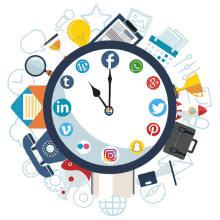 What is Social Media Post?
In today's digital age, an impactful social media presence is essential for any successful brand. At CS Official, we specialize in creating eye-catching and engaging social media posts that will elevate your online presence and help you connect with your target audience like never before.
At CS Official, our Social Media Post services offer captivating and strategic content for your brand's online success. Our talented team creates custom posts, blending eye-catching visuals and persuasive copy to engage your target audience effectively. From stunning static images to engaging videos and GIFs, we ensure varied formats to keep your brand fresh and compelling. With a focus on brand consistency and timely delivery, our data-driven approach ensures optimal performance across social media platforms. Elevate your online presence, connect with your audience, and dominate social media with our expertly crafted social media posts.
<
FAQ For Social Media Post
1.What is a social media post?
A social media post is a piece of content, such as text, images, videos, or links, shared on a social media platform to communicate information, express opinions, or engage with the audience.
2.How do I create a social media post?
To create a social media post, go to the platform's interface or mobile app, click on the "create post" or similar button, and then enter your content. You can type text, upload images or videos, and add relevant hashtags or links.
3.What are hashtags, and how do I use them in a social media post?
Hashtags are words or phrases preceded by the "#" symbol used to categorize and discover content on social media. To use hashtags, simply include relevant keywords or phrases in your post with the "#" symbol, for example, #travel or #foodie.
4. How can I reach a larger audience with my social media post?
To reach a larger audience, consider using popular hashtags related to your content, posting at peak times when your audience is active, engaging with your followers, and sharing high-quality and relevant content.
5.Can I schedule my social media posts in advance?
Yes, many social media management tools and platforms allow you to schedule posts in advance. This helps you maintain a consistent posting schedule and ensures your content reaches your audience at the right time.
6.How can I make my social media post more engaging?
To make your social media post more engaging, use eye-catching visuals, ask questions to prompt interaction, run contests or giveaways, respond to comments and messages promptly, and share valuable and shareable content.