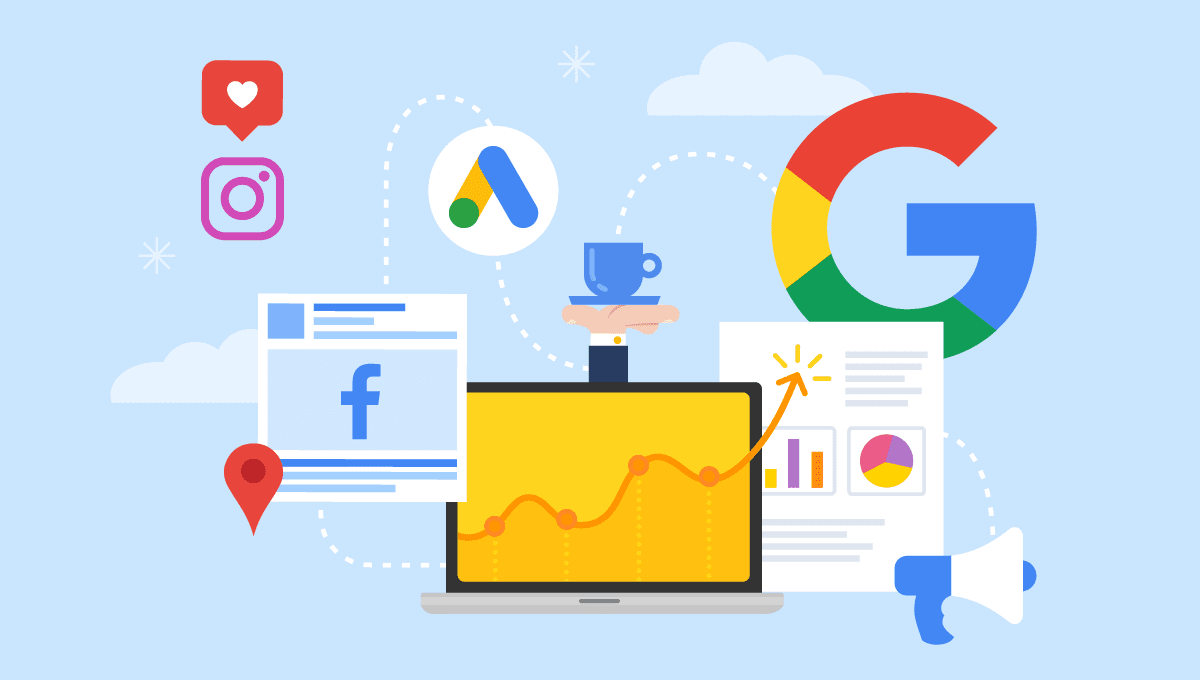 Digital Advertising Management
As in every field, advertising methods have started to shift to digital channels.
Digital media channels such as Google, Facebook, Instagram, Twitter and LinkedIn now provide you with the opportunity to reach the audience you want, both personally and institutionally. Thanks to these social media channels, brands can now be in closer contact with their target audiences. In this way, brands that have the opportunity to get to know their target audience more closely, can set up the right advertising campaigns at the right time.
Especially recently, advertisers from print or visual media observe that access is lower than digital media. However, you can communicate with the target audience by using new media methods and you can get healthier conversions from advertising campaigns designed in this sense.
What is Digital Advertising Management?
Digital advertising management, which has recently become popular in the field of advertising and marketing, means the effort to reach the target audience by using online media tools. With digital advertisements, higher quality, different and faster service options are offered to institutions or individuals.
What Are the Types of Digital Advertising?
Brands, unable to ignore the competition between digital and visual or print media, started to focus on digital advertisements, which are in a rising trend today. Brands; In order to gain awareness, hold on and become more popular, they have to benefit from the advertising models offered by digital media. In this sense, they choose the most suitable format for their marketing strategy and make their choices accordingly.
Reach Any Advertising Goal

Enhance eCommerce Sales

Buy Website Traffic

Maximize Affiliate Links

Increase Brand Awareness

Boost Video Views

Empower Lead Generation

Amplify Social Media Impact

Unleash Your Potential

Experience & Skill

Time-Efficient

Reasonable Rates
FAQ For Digital Ads Management
1.What is CSOfficial Patna's expertise in digital advertising management?
CSOfficial Patna specializes in creating and managing digital advertising campaigns across various platforms to help businesses reach their target audiences effectively.
2. Which digital advertising platforms do you work with?
We work with a range of platforms, including Google Ads, Facebook Ads, Instagram Ads, LinkedIn Ads, and more, to ensure comprehensive coverage.
3.How can digital advertising benefit my business?
Digital advertising can increase brand visibility, drive website traffic, generate leads, boost sales, and provide measurable ROI when managed effectively.
4.What is the process for setting up a digital advertising campaign with CSOfficial Patna?
We start with a consultation to understand your goals, target audience, and budget. Then, we create a tailored campaign strategy, implement it, and continually optimize for the best results.
5.How do you ensure that my advertising budget is well-utilized?
We employ data-driven strategies, including keyword research, audience targeting, and performance monitoring, to maximize your ROI and minimize wasted ad spend.
6.Can you help with ad creatives and design?
Yes, we offer ad creative services, including designing eye-catching graphics and writing compelling ad copy to engage your audience